All You Need to Know About Installing Bespoke Walk-in Wardrobe
Does your dream wardrobe look something like your favourite brand's showroom where you can walk amidst neatly settled clothes rails, and your accessories sit in dedicated storage spaces and shoes are kept tidy on shoe racks on display?
Well, if it does, then a Riverdale Bespoke Joinery Interior is just for you because we will walk you through how you can bring your dream walk-in closet into reality.
A fitted walk-in wardrobe is a stylish, spacious and a perfect example of luxury furniture dream wardrobe. It makes your bedroom shine quality and offers ample storage with customization opportunities.
Therefore, we will share how walk-in wardrobes can elevate your bedroom space, how much space is required, and how you can make the most out of a small space.
How Can Walk in Wardrobes Elevate Your Bedroom?
Before we dive into the nitty-gritty of a walk-in wardrobe, let us learn the benefits of the same.
Stylish Designs
With plenty of opportunities to infuse creativity, walk-in wardrobes add a touch of luxury to your bedroom. Since they are bespoke, you can add your own set of features you wish. These features include a chest of drawers, hanging rails, fitted lightings, dressing table, shoe rack and more.
Functionality
Beyond being stylish, walk-in closets are an ideal wardrobe walk-in solutions in the sense that they are practical to use and you can keep your bedroom clutter-free, effortlessly. Moreover, they utilise every inch in your bedroom. Be it awkward angles, tall ceilings or even loft space. Walk-in wardrobes are practical and designed uniquely for every homeowner.
Organisation
The best part about walk-in wardrobe is the ease of organising everything. It lets you maximise your existing space while allowing you to keep all your belongings in dedicated areas. Example: a drawer for your accessories while a rack for your shoes.
Our design will maximise every last millimetre of closet space and include clever storage solutions.
Let's now understand the space required to construct and install a bespoke walk-in wardrobe.
These fitted wardrobes make the most of every millimetre of space in your bedroom and use clever design features to give you the most storage space possible.
How much space do you need for a walk-in wardrobe?
Designing any fitted furniture, including a walk-in wardrobe with accurate measurements, is crucial. After first analysing the space available in your bedroom, we create a free design sketch for you to ensure we chalk out your idea.
The living-Space required also depends on your needs — whether you wish to hang more clothing or fold and neatly settle them on the shelves. This will be the deciding factor for if you should utilise more hanging spaces.
For a reference, usually, 4-5 feet deep area should be a good starting point for your walk-in closet. Further, the design will take shape after considering if hanging rails and shelves will sit on all three walls or only one or two walls.
Additionally, for having an aisle to walk around and rummage through your garments, a bigger space, usually 10 feet wide space is required. Moreover, a beautiful bench can be placed in the middle to sit down and try out the little black dress or your sportswear outfit or your shoes comfortably.
For smaller rooms, wardrobes can stretch wide but not deep to utilise the existing room-space and use a sliding door, so it opens sideways, saving extra floor space.
The Finest Interiors Make your home extra special with a Riverdale bespoke joinery interior.
How do you make the most of a small walk-in closet?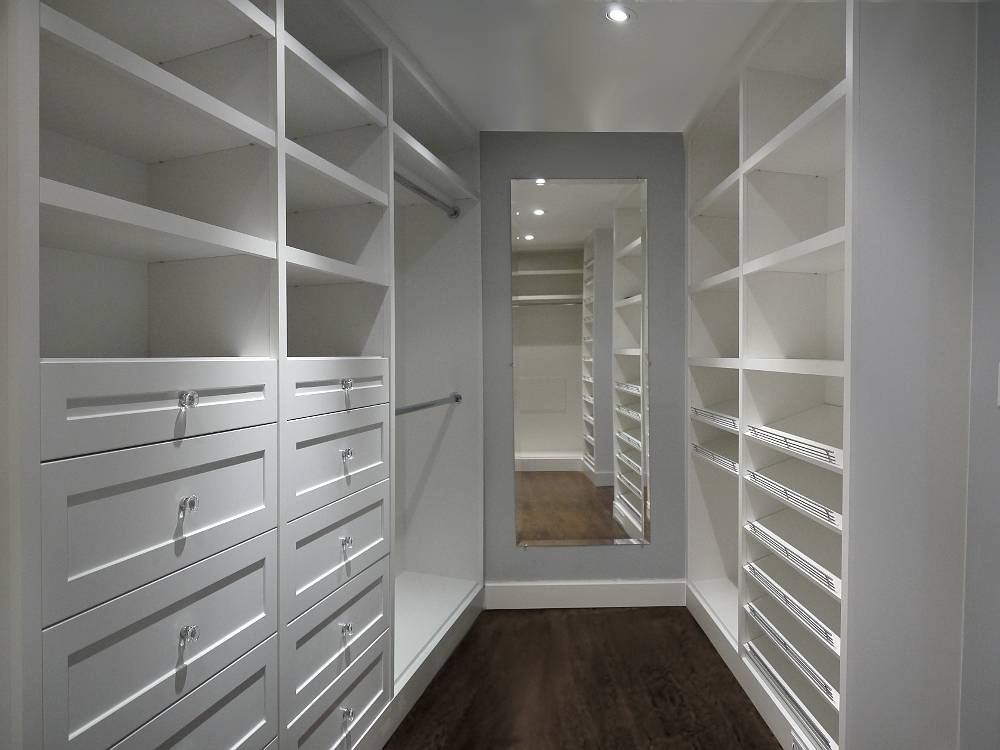 At first, you may think that walk-in closets are only for big, spacious bedrooms. But, the good news is that they are not! You can even install a bespoke walk-in in your existing space and still get the desired results.
To maximise storage in a confined walk in space, here are a few tips:
Dedicate each section to your belongings: this means you can have hanging spaces for dresses and coats while the chest of drawer for jewellery and other mini things. You can also make use of storage boxes and label them to know where each item belongs.
Maximise the dead space: if you have a tall ceiling, most of the upper area would be left collecting dust. Instead of this, you can utilise that space to store your belongings. In the same manner, corners could be well-utilised with bespoke fitted wardrobes.
Make use of hooks in any additional space to hang ties, scarfs or even hats.
Installing mirrors inside your walk-in wardrobes will not only make it appear bigger naturally but also give you the ease to try out your outfits.
Bespoke Dressing Rooms Enjoy the benefits and beauty of top-quality bespoke walk-in wardrobes by Riverdale Joinery
How to get your bespoke walk-in wardrobe designed?
So now you know how a walk-in wardrobe can be a great addition to any bedroom, are you curious to see how you can install one in your bedroom?
With Riverdale bespoke Joinery, you can entrust your luxury fitted furniture requirement, including walk-in wardrobe. We will professionally craft made to measure closets, bringing stylish finishes and your dream bedroom to life.
When you request a free design consultation and quote with us, our designer visits your home. Upon arrival, they will measure the current space and suggest the type of bespoke wardrobe you should install.
We help you make a thoughtful decision by providing storage solutions and planning the interior-space then finalising the design with you.
After finalizing your design, we craft your masterpiece using the finest construction methods, quality materials and deliver it as part of our service. But that's not the end; we install the entire bespoke fitted wardrobe using our skilled craftsmen so that it fits flawlessly into your living space and ensure you are satisfied with the final production.
Contact us today for your consultation design visit on 0114 4055 996 to get free quotes and we will take care of the rest!
Read more on fitted bedroom furniture at https://www.riverdalejoinery.com/bedroom/mirrored-fitted-wardrobes/