Bespoke fitted wardrobes Sheffield
Contemporary bespoke fitted wardrobes that redefine your bedroom
At Riverdale bespoke joinery, we manufacture quality bedroom furniture in Sheffield, South Yorkshire, UK. We offer bespoke fitted wardrobes to a walk-in closet, which get made from the highest quality materials and available in contemporary designs.
Our luxury range of finishes and styles ensures that your bespoke fitted wardrobe will be unique, match your Interior design and to your requirements.
You can choose your designs and create a bespoke wardrobe for your home exclusively.
We offer direct delivery, complete design and survey, along with installation services. Also, our products come with a 10-year warranty for all Riverdale joinery bedroom installations in Sheffield, UK.
The bespoke bedroom furniture range
Simple clean designs
Choose your style from contemporary traditional and modern designs
Best quality materials
Choose from a wide range of finishes in Oak, gloss, painted or glass doors
Space-saving storage
Your bedroom furniture makes the most of your living space to give you the best storage solutions
Setting the Premium Approach in Bespoke Fitted Wardrobes
We have been setting the premium standard for bespoke fitted wardrobes in Sheffield for years, and offer walk-in closets, bespoke storage solutions, adjustable shelving, and sliding door wardrobes. We know that people today are shifting towards minimal designs in their home interior design, and that has resulted in a surge in demand for bespoke fitted wardrobes. 
People want the very best furniture for their living space, and we are masters at creating bespoke fitted furniture that meets your budget.
As renowned experts in the bespoke fitted bedroom furniture, we can easily manufacture and design:
Walk-in closets
Hinged wardrobes
Fitted bedroom wardrobes
Sliding wardrobes
And other bespoke furniture. 
Our experienced and skilled joiners and craftsmen will work with you to help materialise your dreams into reality with a made-to-measure, custom-designed, fitted furniture, to your requirements.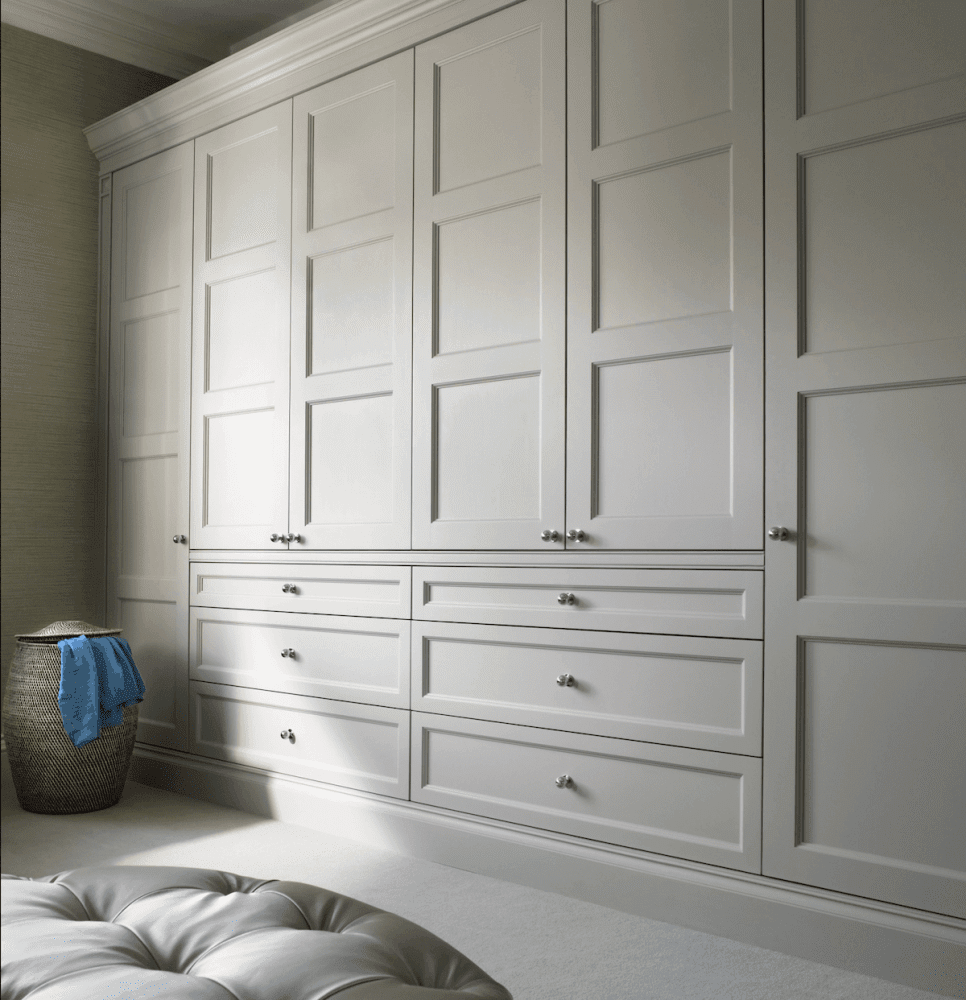 Individually designed
Your fitted wardrobes and bedroom furniture is designed to your style and comes with a 10year quality guarantee
Wide Range of Designs for Bespoke Fitted Wardrobes
What makes our services special is the fact that we can handle large-scale and small-scale operations with ease, and can work fast to meet tight deadlines without compromising our quality. We maintain high-quality standards and ensure that the finishing on all the products is top-notch. 
Our craftsmen and joiners can handle all types of projects, and work with the best tools and materials to guarantee superior workmanship.
We push ourselves to set the bar higher and can manufacture all types of contemporary bespoke fitted wardrobes. There is no design that our specialists can't handle. 
From bespoke fitted wardrobes, contemporary walk-in wardrobe, or custom-made furniture for your home, we leave no stone unturned to ensure complete client satisfaction with any project.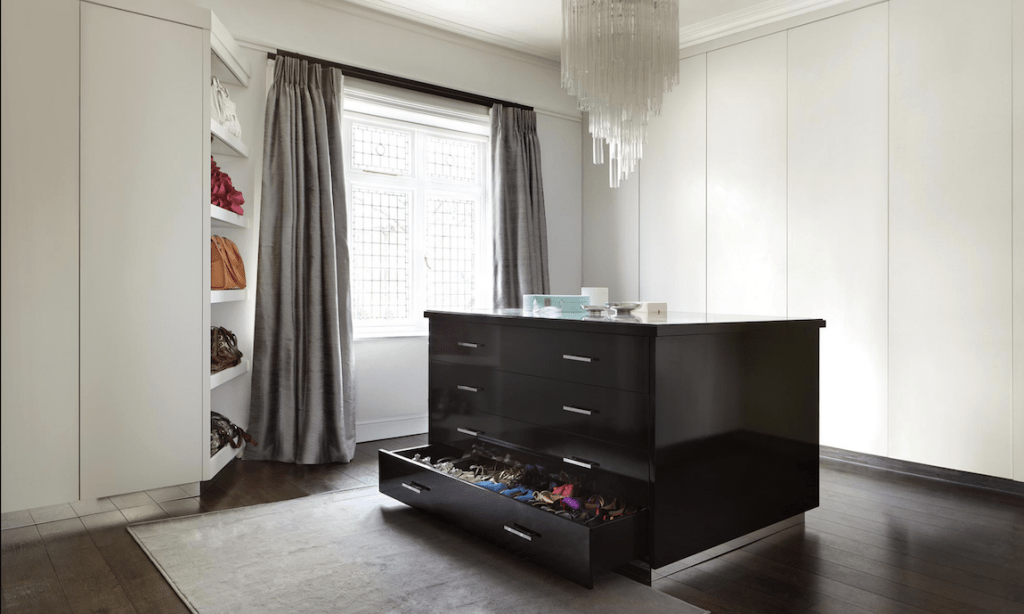 Consultation, design and installation services
Our service is to to bring you the living space you want to enhance your home with quality designs.​
Promising You Unrivalled Quality in Bespoke Furniture
It doesn't matter what shape or size your bedroom is, we can deliver any style of bespoke fitted wardrobes that will suit your requirements. Our bespoke fitted wardrobes provide discreet storage options and can be combined with freestanding pieces to create a unique solution that offers the best in aesthetics and performance. 
We believe in maintaining standards for our bespoke design solutions and therefore, provide a wide range of choice with our bespoke fitted wardrobes.
You can choose from full and double length hanging spaces, adjustable rails, gliding drawer system, and shoe and accessory tray to be fitted in the closet drawers. 
We can guarantee that our bespoke fitted wardrobe will be hand-crafted and designed to your requirements and will be a special addition to your home.
Call now to book your free consultation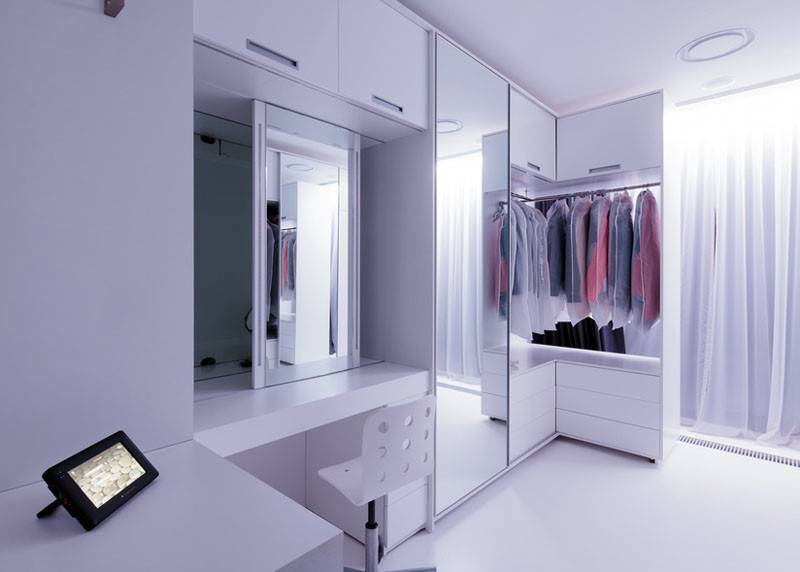 Walk-in Dressing Room
Closet dressing-space.
With a variety of wardrobe storage options, you can store your clothes, shoes, accessories and other personal items in one place. It fits into every shape, size and design of your bedroom, and if you prefer to hide a few pieces of clothing or shoes, the wardrobe can even fit into a door. 
Creating the perfect bespoke bedroom means bringing the entire design together and incorporating every little detail that makes each room unique. Relax as the designer goes through a range of options to highlight all the benefits and help you design the ideal built-in and wardrobe that fits perfectly into your personal living space. 
Call us to arrange a design appointment with one of our designers to discuss a tour of your wardrobe. 
Your bedroom doesn't just have to be there to sleep, and it can also be a place to read, watch movies or even function as a home office. Your bedroom should be somewhere you can relax with your family, friends and even your pets, but it doesn't just have to be about sleeping. 
A walk in the clothes closet is the ultimate luxury for fashion and home lovers organising your clothes and preparing for the day ahead. Owning your dressing room can have a positive effect on well-being. When you talk about going into the closets, the spirit immediately wanders into the adjacent glamorous room, and you immediately wonder what to wear. 
By combining organisation and luxury, the "walk-in closet" wardrobe can become a desirable addition to your home. 
The clothing storage experts from Riverdale joinery have found the perfect cabinet and drawers for a walk – in the wardrobe with our Bespoke options.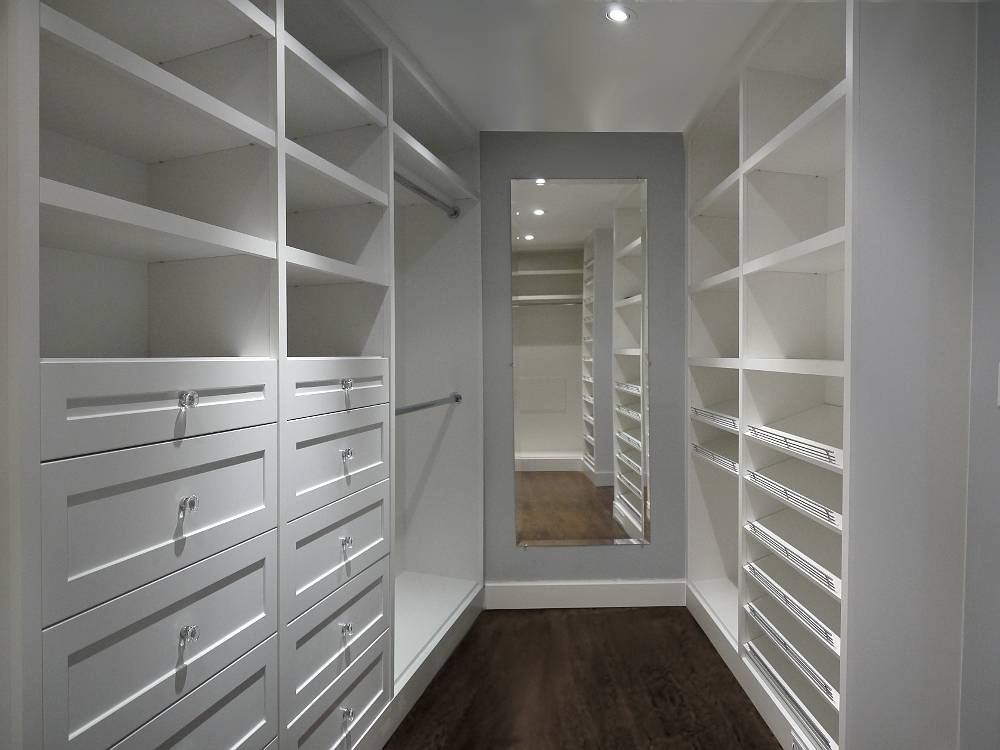 Consultation, design and installation services
Our service is to to bring you the bedroom living-space you want to enhance your home with quality interior designs.
Fitted Bedrooms and Installation Service
Riverdale joinery to design a custom aisle – in the wardrobe, choose a simple wardrobe layout and choose colours, patterns and textures that match your design interior aesthetic. 
Your bedroom design is a great start, but if you want a wardrobe that fits your lifestyle perfectly, you need to create an even more detailed layout plan. Do you think your wardrobe design will match your style, lifestyle or even your style? 
Why not let the Riverdale joinery team in Sheffield show you how to make your walk – in the cloakroom – a reality? The secret of designing a walk in the dressing room it is to be smart with your space and use every inch of it. 
If you have an entire room or unused corner of your bedroom that you want to transform, we have designed and made some of our built-in furniture for you. 
Our stunning living-space designs offer a great way to get more space out of a room with sloping ceilings and cramped spaces, as well as a more comfortable and comfortable corridor – into it. 
Ideally designed to hang garments on poles, creative cabinet designers will combine different storage options. And, through intelligent positioning, maximise space while making it multi-functional. 
However, the interest of some customers in the construction of bespoke bedroom cabinets, closets and fitted wardrobes in Sheffield suggests that their customers have limited storage space. If so, Riverdale joinery Cabinets offers its customers a range of options to maximise the available storage space. 
Riverdale joinery design options in a bedroom closet – is perfect for those where space is likely to be a limitation, such as attic bedrooms and sloping ceilings. 
Going for a dedicated area – the wardrobe is a departure from the traditional style that has graced many houses in recent years, such as the modern home.
To provide our customers with genuinely personal experience, we have incorporated special features to enhance the beauty and style of our bespoke walk-in wardrobes. 
Riverdale joinery takes a unique approach to assemble a bespoke "walk-in" wardrobe, and this part of the design process can be tailored from start to finish. At Riverdale Wardrobes, we continuously strive to impress and satisfy our customers with high-quality furniture design. 
Riverdale Bespoke Joinery
Just take a look at the designs we have to offer, and we will send our best interior designer to help you. If you need help with all this, you only need to call us. 
Riverdale joinery uses quality materials, and this walk-in robe provides Sheffield residents with space they need to store their clothes and valuables. 
You can also design a beautiful and opulent walk in a wardrobe with a skylight that will naturally brighten up your fashion collection. Riverdale joinery sliding wardrobes and builds walk-in closets to meet your need for personal space for clothing and accessories. 
A large wardrobe similarly influences the overall function, aesthetics and personal sanctuary. Free-standing closets efficiently serve their purpose, quickly and effortlessly – free storage of clothes and accessories. 
A bespoke walk-in allows you to choose the design details that suit your needs and routine and provides a bespoke look. The combination of a walk-in closet and menswear enables you to make the most of the space.
Riverdale - the go-to Bedroom Company
For fitted wardrobes Sheffield, South Yorkshire, Riverdale joinery offers the best joinery and designs available. If you want a first-class joinery service and carpentry experts Call Riverdale bespoke joinery today on 0114 4055996