Local Joinery Companies
What is joinery? What does a joiner do?
In broad terms, joinery is a type of woodworking that usually involves joining together two or more pieces of wood. Most furniture-making falls under that category. That includes the making of door and window frames, tables, doors, shelves, staircases, cabinets, and more.
Even if you scarcely hear about them, the work of joinery is all around you wherever you are.
How are joiners different from carpenters?
Joiners are closely related to carpenters, so it's no surprise that people often confuse the two. Joinery and carpentry were even closer in the past, but they became distinct fields in building construction and woodworking once cabinets and more intricate pieces of wooden furniture became widely popular.
On the surface, joiners and carpenters have similar jobs. However, there are a few key differences. Carpenters usually focus on the larger parts of a house. That includes the roof, floor fittings, wall framing, as well as the windows, frames and shelves.
Joiners, on the other hand, make furniture and various kinds of wooden crafts in joinery workshops, where they have all of the timber, machinery and tools they need.
That said, joiners do occasionally install furniture themselves. Most local joinery companies offer furniture installation as part of their services and more established, experienced joinery companies will provide commercial joinery too.
You can read more about the difference between joiners and carpenters in an explanation by international timber whats the difference between a carpenter and a joiner
What are the bespoke joinery services?
Bespoke joiners or bespoke joinery companies provide made-to-order furniture. In other words, furniture made with precisely the measurements, materials, colours and design that you asked for, including a range of traditional to modern styles.
Bespoke joinery is incredibly flexible and can create almost any piece of furniture you've always wanted. And, most joinery companies go out of their way to make the process fun and intuitive for the client. But, don't worry when you contact a joinery company with no knowledge of woodworking is necessary for you to place an order at a bespoke joinery company.
Benefits of buying from local joinery companies
Buying from bespoke joiners, as opposed to furniture retailers, carries many benefits with it.
Even if you go to a larger furniture retailer, if you have a particular idea in mind, you may end up not finding what you're looking for. And, if you live somewhere with only a smaller site furniture store within reach, finding exactly what you want will just be that much tougher.
It's not just a matter of being picky, either. A dining table, kitchens, a desk or a chair with the wrong measurements can make life very difficult. What's more, a piece of furniture that's in a lousy colour will be off-putting. It can even ruin the aesthetic of your home.
For example, I recently wanted to buy a new desk for my home office. The desk I had at home was too small. The drawers, which were fitted horizontally under the desk, made it impossible for me to sit comfortably. I wanted a beautiful, spacious desk with enough room for two monitors, a keyboard and a mouse. Also, I wanted at least two drawers but stacked vertically on the side.
I went to a few stores, searched facebook and looked on a website, but all of the desks I found were too pricey or weren't the proper colour, or the precise measurements, or the design I wanted. Thankfully, a friend told me about a nearby bespoke joinery company who had years of experience. He and his wife bought their dining room fitted furniture there and were very happy with how it turned out.
They already had a standard office desk with the measurements and the design I wanted. All I had to do was ask them to change the colours so that it matched my home office interior. I also asked them to shift the drawers from the right side to the left.
Then, I thought to myself that I could maybe use a cabinet under those drawers, so I asked them if they could manufacture and install one for me. When I got the total back, I was amazed to find that it was cheaper and not as high than a lot of the pre-built desks I saw before.
That, in a nutshell, is why ordering from a bespoke joiner is usually the best choice when you need a piece of furniture made to spec. Simply put, a piece of furniture with the right measurements, colours, design and materials is often close to impossible to find, even at major retailers. With a bespoke joinery service, you can just say what you need the joinery company starts your project and expect it in a few weeks.
What can a bespoke joinery company do for me?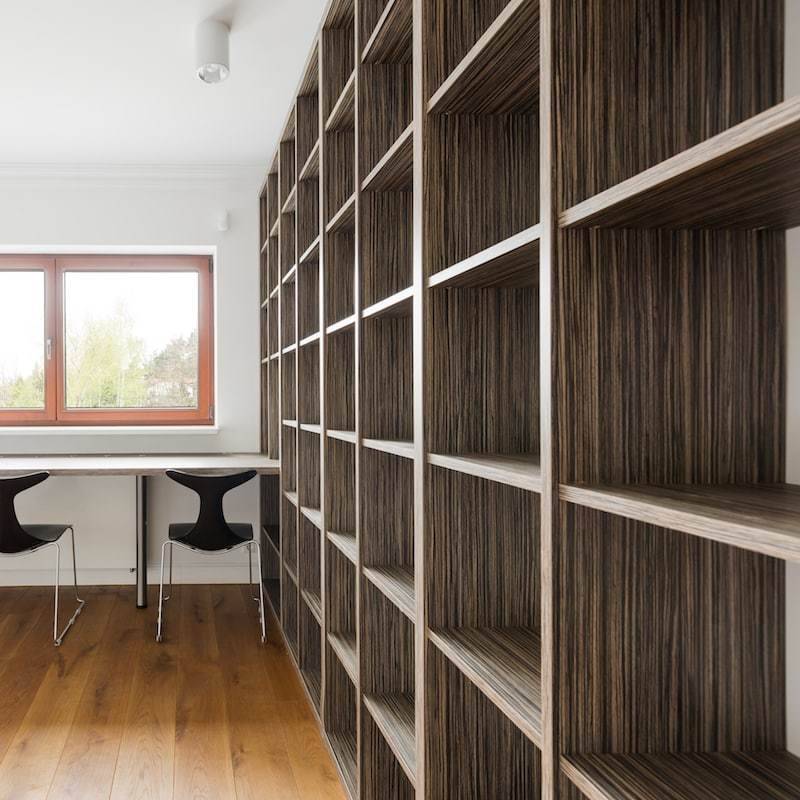 Bespoke joiners usually offer a wide variety of services and products. That can include fitted kitchen counters, windows doors and cabinets, tables, desks, chairs, drawers of various shapes and sizes, wardrobes and much more.
If you can picture the lounge room you've always dreamed of, you can make it a reality with a bespoke joiner by specifying every detail: the colours, the materials, the design and the layout of shelves, drawers, bookcases and other elements.
Furthermore, some aspects of your house must be fitted perfectly, like the window and door frames, stairs, garden decks and floor tiles. For that, you need a joinery service to create those elements precisely to spec, or else you could be in for a lot of trouble.
Workspaces usually must have fitted desks, cubicles and other elements made to spec to ensure good organisation in a fast-paced business environment.
Listed buildings also occasionally require architectural joinery services.
Find local joinery companies
Yorkshire has quite a few local joinery companies to choose from. Of course, what you want to look for is an affordable, quality service. A bit of asking around can do wonders if you aren't lucky enough to have a friend suggest one to you, as my friend did for me!
Hopefully, you can see the benefits of buying from a bespoke joinery company. Now, you can stop looking for the home of your dreams and start creating it.
I know going bespoke is an excellent choice for the highest quality in fitted furniture for each room of your home. I looked around and got recommended a joinery company with an excellent reputation in all bespoke, and works with clients on numerous projects.
Local Joinery Companies
Riverdale bespoke joinery is one local company working in Yorkshire UK and has a team based in Sheffield. They will produce joinery that is bespoke to fit your home. As a leading company in the bespoke joinery industry, your family and home are in safe hands.
For a complete joinery quote, please contact Riverdale bespoke Joinery, call or email, I'm sure you will be another happy customer.