We Create Custom Built In TV Units For Every Style and Space!
It doesn't matter whether you're watching tv box sets or watching a film. Built-in TV units can give a modern and cinematic atmosphere while offering plenty of storage. So give your television a place to belong with a fitted unit from Riverdale Bespoke Joinery.
If you have a media or family room in your house, it probably includes several pieces of technology, such as a TV – any flat-panel display device or large-screen television technology, DVD player, gaming console, and more. Organize and store all your media equipment with a built-in TV cabinet. Our expertly crafted storage solutions and built-in media units give your TV the right and perfect space to be seen and house all the additional boxes and gadgets you're likely to own.
Our business offers a complete range of fitted media units to be installed on a wall or the floor, as well as built-in corner TV units in tricky alcoves. All cabinet styles come in a range of colours and finishes. So you're sure to find the perfect bespoke TV cabinet to fit and complement seamlessly into your home or apartment.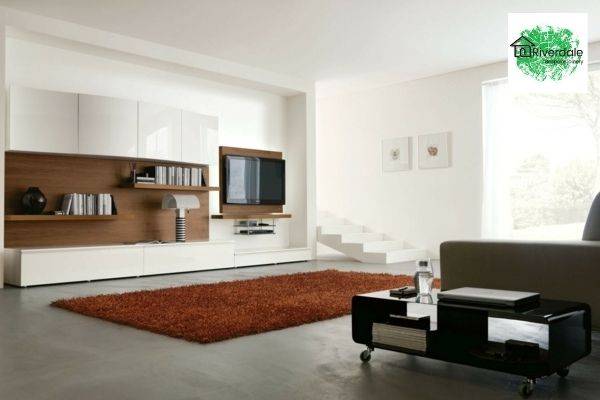 Choosing Your Favorite TV Stand Or Unit Combination
There has been a lot of progress since the days of black-and-white TVs – games, on-demand movies, and 3D. But one thing hasn't changed – a television unit needs a stand or cabinet to sit on. So, we have a collection of products that make managing cables, cut clutter, and have neat looks. So, even when your TV is turned off, you can relax, enjoy, and appreciate the sight of your TV in the living room or family room.
Whether you want a mix of colours or a monochrome look, Riverdale Bespoke Joinery offers so many options and ideas so you can easily find the right storage and shelves solution for your space.
Materials & Finishes of The Finest Quality
All of the fitted furnishings we create for your home is made from the highest quality materials and professionally finished and installed.
Materials are selected based on each customer's preference, whether it's a solid wood look you prefer or a painted one for a contemporary look. We will provide the finest materials to fit within everyone's budget.
Finishing your furniture is one of the most important aspects of bringing your design to life, making the piece look great. Hence we offer a selection of finishes featuring hand-painted finishes with paints from various suppliers.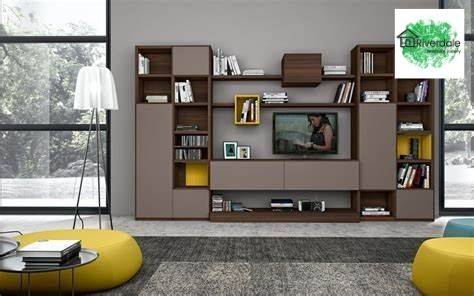 Built-In TV Wall Units
We usually have multiple TV sets at home and even more gadgetry and technology to go with them.
Your ultra-high-definition television will have the perfect spot to be seen with our crafted and custom-fitted media centres. At the same time, you can house any additional display device, boxes, media platforms or other items you may want.
Modern TVs are sleek and cutting edge, so you'll need a media unit as attractive as the TV as a media backdrop.
Our TV wall units and multimedia cabinets are available in a wide variety of styles and are fully customised to fit your lifestyle. Our units are a dedicated area for all your TV needs.
Put away all of the unsightly electrical wirings, backlight your shelving to present your Blu-ray, DVDs and Game collections, keep your surround sound system secure, and keep all of your set-top boxes sorted.
How much does a built-in TV cabinet cost?
As part of the home refurbishment process in Sheffield, we often receive enquiries about the expense of bespoke furniture and how it compares with shop-bought pieces. Later in this article, we describe specific costs for various bespoke items that we designed and installed during the process.
You can choose from a wide range of options, from £500 for an upholstered footstool to £6200 for a TV wall unit. In addition to the alcove units, we look at the AV equipment cabinets and storage, shelves, cupboards, and other costs, from £900 to £1200. Bespoke furniture doesn't necessarily have to be expensive; our clients are frequently surprised at how affordable it can be, and it fits perfectly.
How much is a bespoke TV unit?
The cost of the product can range from £1000 up to £6000 or even more, depending on the amount of customisation required. Bespoke storage is advantageous because it fits precisely; it also provides specific requirements such as shelf spacing, cable management, and slots for accessing sockets. Lighting and other features can be added to make the furnishings even more special.
For example, the cost to construct, spray, and install a TV wall unit, including a block detail backboard, wire management, lighting, push-to-open doors, shelves, drawers, and high-quality fittings, is £6200.
Whether you use your living room for lounging or entertaining, keep it fresh with our designs.
What do I do with old built-in space on my TV?
Building in new wall unit cabinets for your TV can cost nearly half of your total budget for a living room renovation. But if you do not have the resources to buy all-new cabinets with the newest storage or shelves features and styles, how do you upgrade your existing TV cabinet?
It's not true that there is nothing you can do with an old built-in tv entertainment unit. They provide a sense of permanence and durability to a home. They add variety and character to an interior, help reduce untidiness and make walls appear contemporary, making the home feel more substantial.
Artisan Experts recommend creating two cabinets: a base and an upper cabinet and cupboards if you are planning on remodelling an old built-in TV space. This will allow the unit to be broken up and can accommodate different depths of storage. In addition, drawers and doors on shelves can be fitted on the tv base entertainment unit to conceal electronics and accessories.
Generally, media walls look best when they reflect the architecture of the home. Riverdale Bespoke Joinery studies and matches the trim throughout the house and runs matching crown moulding across the front of the built-ins.
It is possible to design the built-ins yourself or have them designed and made by an expert craftsman. One advantage of hiring a professional is that he or she will consider a wide range of factors that might not occur to a layperson, including interior design, aesthetics, ventilation, lighting and wiring.
Which material is best for the TV wall unit?
It is also important to consider the material used for the construction of your new TV stand. Would you like a more traditional and classic wood TV stand? Whether you prefer metal or any other materials, there are many options available. Glass TV stands are becoming increasingly popular, with the appearance of a nearly transparent stand becoming a common occurrence.
Wood
In addition to wood, which is the most commonly used furnishing material, TV stands typically feature metal or glass units. However, wood offers a wide selection of styles, colours, and utility that are hard to get from units made of other materials. The most luxurious models are usually constructed from wood, with ornate details and beautiful surface textures.
Metal
Compared with wood, a metal TV stand is lighter, thinner, and more durable. In addition, it's usually shaped into innovative configurations and features unique patterns and cuts. In modern units, metal is often used in construction, either by itself or combined with shelving made of other materials.
Glass
TV stands made of glass open visual space and reveals electronics in decorative splendour. Usually fitted together with metal support pieces, these stands give the entertainment unit or area a modern, clean look. They are the perfect choice for those who value a mess-free space.
Custom Made TV Furniture by Our Amazing Team
Designed, manufactured, and installed by our highly skilled in-house team. With a wealth of experience, our ability to customize built-in furniture and fit it into your individual home allows for an elegant, functional design delivered to a high standard of craftsmanship and at a competitive price.
When manufacturing and designing your bespoke TV furniture, you have so many options to choose from. Do you want it to be the centre of attention? Do you want it to blend seamlessly with the décor? Would you want the TV to be in the centre of the room, surrounded by shelves and cubby holes for a more comfortable and relaxed feel?
Will your shelving needs spotlights, and what colours will you like the furniture to be? Would you prefer it to take up an entire wall, or would it be more practical to build fitted media furniture into an alcove?
Whether you dream of a custom-fitted TV that incorporates some of everything or you are looking for something in between, we have the design expertise to turn your ideas into one seamless piece.
TV media cabinets are specially designed and built to accommodate all your AV equipment. As a result, they not only look good but are highly functional, as well as being a great focal point in your family room.
How We Do Things in 6 Easy Steps
1. First Meeting. You will have the opportunity to meet one of our expert designers in your home or workplace.
2. The design. In response to your initial design brief and ideas, we will create a mock-up of your project together.
3. The Tech Survey. We will analyze every aspect of the project to determine what sizes and fittings are needed.
4. Manufactured in the UK. The furniture you order will be handmade in one of our Sheffield workshops.
5. We provide stress-free installations. With our stress-free installation process, we will deliver your ready-to-assemble tv unit furniture on time and leave your property clean, fresh and tidy.
6. We guarantee your complete satisfaction. A 10-year Guarantee is absolutely included for all of our tv cabinet and tv wall unit carpentry work.
How does the design process work?
All of our services are customized to fit the needs of each client. We offer a personalised service that begins with an initial consultation and design meeting, in which you can share your ideas and wishes with our designer and discuss the design and look you hope to achieve with your bespoke TV and media unit. Upon agreement with the design brief, we create a mock-up of your project ideas that you can approve and accept. At every step of the process, you will be consulted to ensure your absolute satisfaction.
Expert Craftsmanship & Precision Installation
Designed and manufactured by our own in-house team of expert craftspeople, we provide you with a range of built-in TVs to suit your requirements. Highly qualified outfitters will also install them. With years of experience building customised built-in TV wall units, we strive to ensure the highest possible quality.
We offer built-in TV unit furniture guaranteed to optimize your area or room with functional, adaptable, contemporary, and elegant style cabinets produced to the highest standard and at a competitive price.
We are your trusted provider of TV Media Furniture in Sheffield and South Yorkshire.
Your tv wall unit and bespoke made furniture are created with your individual needs in mind, including the style and creation of all aspects of your custom made furnishing that enhances your living room or space.
Contact Riverdale Bespoke Joinery for more information and talk to our team today if you are interested in designing your bespoke TV units. We can show you what's available and discuss some of our innovative storage, cabinets and shelves recommendations to make your tv entertainment wall unit or room a clutter-free one.
Read our related post: https://www.riverdalejoinery.com/lounge/bespoke-furniture-uk/