Fitted Furniture for Beautiful Loft Conversions
Fitted furniture should be your only choice regardless of whatever you plan on doing with your new loft conversion. Spending your money on fitted furniture no doubt is regarded as a good idea not just because it creates the illusion of enough free space in the room but also because it speaks firmness in styles.
Many don't see fitted furniture as going beyond wardrobes, mattress frames and chairs, but really, there is more to it than that, fitted furniture conserves space, complements the exact dimensions of the room. And ideal for any room and provides an avenue to make do with your area efficiently.
To understand more about fitted furniture read what is bespoke furniture
Popularly known and regarded as static wardrobes, the loft conversions offer just the ideal and the most effective choice for a small bedroom when limited floor space is highly required. When furnishing a room such as this, the only viable approach towards keeping everything going is to go vertical.
Carefully fitted furniture for a loft conversion and a bedroom loft conversion will keep the wastage of any space to the barest minimum.
The loft conversion is definitely one of the most efficient uses of space, as a matter of fact, it is regarded by many as the optimum as it offers the most efficient and most astute use of space. Before selecting every piece of furniture and elements, you have to visualise and then dressing or obtained an entire range of fitted loft room furniture.
Fitted bedroom wardrobes and angled ceilings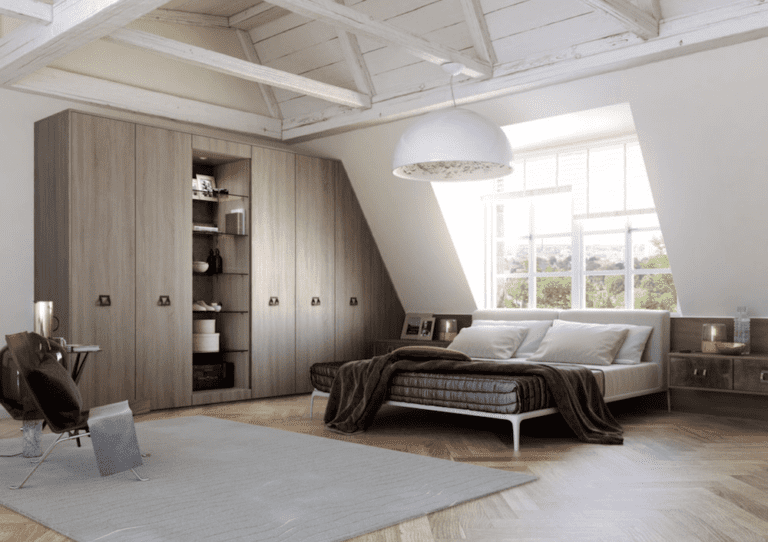 Angled ceilings create a unique style and look to a room, viewing exposed wooden beams bring an air of earthy quality to your interior decor. These angled ceilings and odd shaped walls will make it trickier to use standard shop furniture when it comes to furnishing your attic conversion.
Fitted wardrobes constructed to be ideal for an angled ceiling fits perfectly into the room and preventing the loss of any storage space. Your closets are designed to suit your requirements and incorporate a hanging space and drawers.
When selecting a fitted wardrobe, you should put into considerations the quality of the materials used and the construction. You should endeavour to ensure that it is not-flat-pack or standard size products that will turn the angled ceiling designs and make that awkward space friendly.
Fitted drawers and furniture
You can fill in some of this awkward space by installing a well-fitted drawer for keeping your clothes, your shoes and your accessories. Drawers and wardrobes offer a smart solution to the problems of maintaining tracks of stuff. The floor space can be maximised by setting a chest of draws into the roof of the loft conversion.
Cupboard storage
This comes in when you have a bathroom fitted for your loft conversion. It can either take up the entire floor area or just a few meters, for sure you'd have a few items you will like to keep at hand, some of these things include your children's toys, your beauty products, your cleaning products, just to mention a few.
Keeping a fitted cupboard into your loft space provides a way of hiding protruding finishes and help save a clean interior finish to leave your room more spacious.
A corner desk and workspace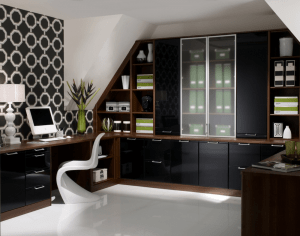 A common trend nowadays is people converting their loft conversion into a library or a study where they can work on or relax and read some books. Because of the extended space in a loft conversion having your desk at a corner of the wall of the room.
Another way of making the most out of your space is to get a desk that has a cut out which you can sit and work on either side of the desk. With this, you wouldn't have to work from a chunky chair taking out space in your room.
Irrespective of your bedroom's size or shape, your choice of furniture should be able to carve out the most storage and usable space possible and do this without jeopardising the pleasant look and safety of your bedroom.
Best use of space for a loft conversion
You may have a loft that is smaller than an ordinary room, in that case, finding a way of enhancing the area can make a lot of difference. Under eaves storage, In-wall shelving and dressing rooms offer a way of conserving valuable space.
Shelves are another great option since they can be fitted as a floating unit on the wall or from floor to ceiling providing much more storage space without infringing upon the room. Use any unusual corners or angled ceilings with tight spaces for more storage.
Creating custom cupboards and drawers below slanted Velux windows can maximise space that would have otherwise been unusable
It doesn't matter whether or not you have chosen to use you're your new loft conversion as an extra bedroom, a study or a game room, no matter what it is, you certainly will most likely find yourself tight on space.
Very rarely will you see a loft space that was designed to be a regular part of the home but with the best loft conversion though you may be limited in the standard furniture you can fit into your room.
While setting up your loft, you should bear in mind that sloping eaves will prevent large fitting items and that anything tucked down low may be too burdensome to reach. And as a result, it is recommended that you get furniture that saves space and will radically and uniquely improve the look of your new loft conversion.
Here are some of the fitted items and furniture you can add to your loft to make it look splendid without putting your space in jeopardy.
Fitted bedroom furniture and television for loft conversion
For sure a tv forms an essential part of every modern home and wouldn't be found missing, and although for obvious reasons you may not be able to fit a large-sized flat screen tv into your loft conversion you can still use one with a substantial size.
The best way of installing the T.V is to be lowered in a cabinet and placed at the other end of the bed and remotely controlled. Then at the push of a button, the television rises leaving the other part of the cabinet as storage for keeping your things.
Now, this doesn't just make your bedroom more stylish and gives it a modern look, but it also offers a more practical and judicious use of space.
Elevated beds
Elevating the bed in your loft is one of the best ways of giving it and the space below it a stylish and contemporary look. Another way to bring an extra attractive look to your loft conversion, an innovative staircase can be introduced making, this becomes the focal point of the room.
Staircases
Another trick that can be used in a loft where you are short of space is a space saving stair. If the loft conversion access is a tight one, then you need to consider a staircase with a compact design to minimise the footprint of the stairs, an excellent option is the tight spirals. Another one is one that doubles as a bookshelf. This no doubt will provide an intelligent but yet stylish solution to your problem of space.
A few dormer window seats
Having a few built-in window seats goes a long way in making your loft look classic. Make your attic look more accommodating by building a comfortable lounging spot underneath your loft conversion's sloping eaves to give yourself a perfect nook to chill and relax in. With the access to plenty of natural light you get from the window, I don't see anywhere more perfect.
With all being said, loft conversion offers a significant investment when you are looking to add value to your home so much so when you use fitted furniture and bedroom furniture. It adds storage space and is also another avenue for you to carve out the much-needed space for you and your family.
With the right piece of furniture, even the smallest of spaces can be stylishly transformed into a wonderful loft conversion no matter what room it is such as a bedroom, Storage room or even the bathroom.
If you require advice on fitted furniture for your loft living space Riverdale bespoke joinery, offer a free consultation and expert advice on stylish designs furniture solutions.