Bespoke Office Furniture - Category: Home Office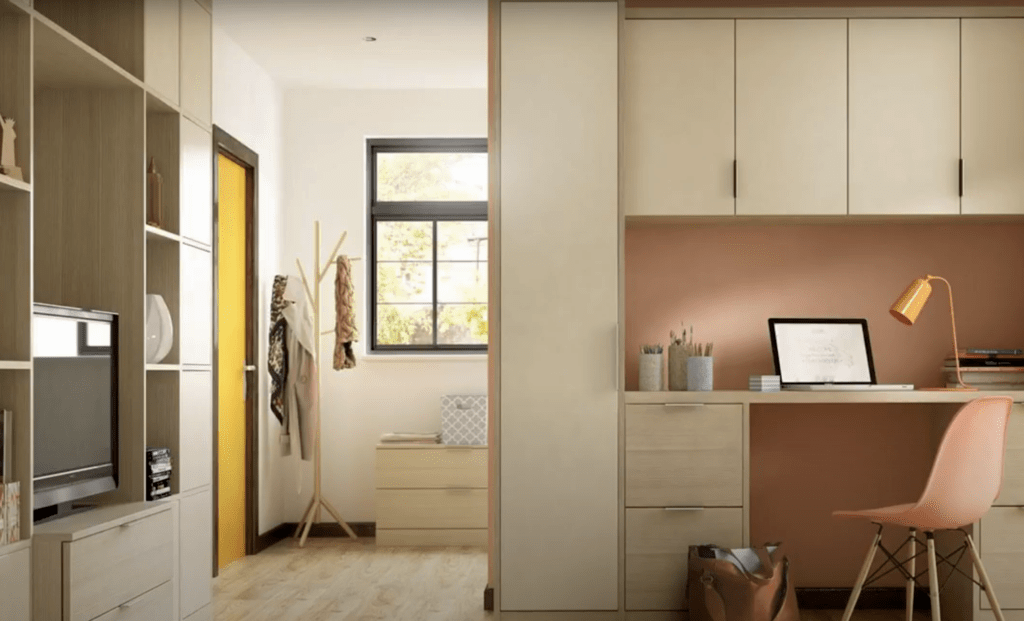 Fitted Home Office Furniture.
Whether you work from home every day, occasionally, or want a dedicated home study area and productive space for your children to do their homework and studies, there are so many important factors that our design team will consider when designing your bespoke home office furniture.
Introducing our home offices.
Cut out commuting and manage your business and family with a personal home office, complete with all the comforts and practical touches you require. At Riverdale bespoke Joinery in Sheffield, we offer practical, stylish working spaces and a home office furniture range to provide you with the perfect area to work at home.
Our home office designers will carefully consider the layout of your room to integrate your height-adjustable desk and storage space, letting you stow away your equipment at the end of the day.
All Riverdale bespoke joinery home office furniture designs and craftmanship come with a 10-year guarantee.
Bespoke Home Library & Small Offices.
Many UK homes lack the luxury of having an entire room dedicated to being an office, so we specialise in built-in office and small home office projects as well as fitted home office furniture.
All of our fitted office furniture is crafted to order and made to measure, custom-built to your preferences and specifications. A thoughtfully designed Home office can enhance your working environment making working from home a pleasure.
Office Modern Home & Bespoke Home Library.
One of the popular concerns our clients across South Yorkshire have is that they have plenty of items that need storage and very little space in which to do so.
Oftentimes we take measurements for a home study in small home office spaces that are cluttered simply because there is a lack of available storage.
Our fitted home office furniture is purposefully designed to create a clutter-free environment, with smart storage solutions.
Fitted library arrangements are also trendy within the home office setting as many of our customers have significant book collections that can be displayed proudly alongside your office equipment.
Building in a fitted library to your home office can also enhance your home-study environment's homeliness, giving the office an interesting and warm backdrop.
Finished in a painted colour or medium to dark woods, this fitted office furniture solution can turn your home office into your favourite room in your home.
Contemporary Loft Home Office.
Loft or attic rooms tend to contain awkward spaces, tight corners and sloping ceilings that are impractical and almost impossible to find furniture for off the shelf. Our office design experts will work with you to create a home office space that's the right fit for you.
Creating and designing Built-in home office furniture that is warm, comfortable, and fully functional includes built-in storage for your filing.
We design our office furniture to feel homely and work hard to ensure that the built-in office integrates seamlessly with your wider home environment.
They also provide smart and practical storage solutions, allowing you to file, categorise and manage your documentation for a clutter-free and harmonised home office environment.
Get a free quote
How does the process work?
After an initial meeting between our team and you, we will be able to understand what it is you're looking for. From here, we'll then be able to provide you with a quote for the work required. Once you're happy with this, we'll then ask for a 50% deposit before starting any work.
A date of installation will then be arranged where our expert team will come, deliver and install the furniture requested. Once we're all done with fitting, we promise to leave your property as clean, fresh and tidy as it was when we arrived.
Why fitted home office furniture for your home in the UK?
The concept of working from home is no longer alien. Professionals across ages and most people are increasingly looking for products and arrangements to help raise productivity levels when working from home.
Riverdale joinery ' range of home office furniture caters to this exact segment of motivated professionals and business owners.
The term 'home office' refers to a coming together of workplace and home, which means it has to be comfortable and offer a conducive work environment. That is precisely what Riverdales home office furniture range offers.
Right from comfortable and supportive office chairs, ergonomic desks and tables, wood finishes, intelligent storage spaces, handy document organisers, and adjustable work lights, we create workspace solutions for every aspect of your small home office.
The process begins with a free designer visit to your home. Point us to the place where you desire to set up an office. Now sit back and relax as our talented interior decorators and designers survey and measuring the room architecture and produce visual drawing based on your input and choice.
The entire home office unit is made to measure, and you have the complete freedom to personalise every part of your workspace. And in case you want only certain areas of your home office renovated or are just looking to replace some of the furniture, please get in touch with us.
We look forward to serving you.
For her radical redesign of a Jennifer Post carved six distinct areas out of the 900-square-foot space. The home office occupies an entire bedroom wall. Its decor is in line with the rest of the place, a minimalist feel with a strictly white palette and strategically placed accents of colour throughout. "Colour is used to increase the length of the apartment. You have to go look for it," she says.
We're digging the minimalism in this beach-chic Malibu home office area. The Ellwood-Lomax drop-front desk saves space and highlights all the sculptural accoutrements. That poof takes on many jobs: bookshelf, footstool, and an extra chair for a study buddy.
https://www.architecturaldigest.com/gallery/home-offices-slideshow
This bright, light home office is the perfect working space to think and create. When architects Lee F. Mindel and his partner, Peter L. Shelton, redid a couple's apartment in a 1910 building, they wanted to take advantage of the natural light streamed into the corner unit. This bright office doubles as the guest room. The chairs are by Jean Prouvé, left, and Hans Wegner. The Orrefors bowls on the low table are by Shelton, Mindel & Associates.
https://www.architecturaldigest.com/story/mindel-article-022007
A little colour goes a long way in an all-white space interior. The study in this apartment designed by Desai/Chia features aluminium shelving by Rakks and just enough colour and shapes for oomph.
https://www.dezeen.com/2017/08/07/photographers-loft-desai-chia-architecture-provides-live-work-space-new-york-city/
Some super sleek curves architect Charles Gwathmey's signature distinguish his St. Barts home office and its supra-wood desk, designed by Kang Chang and fabricated on the island. The swivel chairs are by Hans Wegner from DK Vogue, and the ceiling fan is by Boffi. The rainbow display of books is a nice touch, too.
https://www.architecturaldigest.com/story/charles-gwathmey-st-barts-article
Book Your Home office furniture design visit
Book a style call today and an experienced member of Riverdale bespoke joinery team will visit you. For a professional designer, drawing and installation of your new workspace, contact us today. Call 0114 4055996